Commercial Water Damage Restoration in Wichita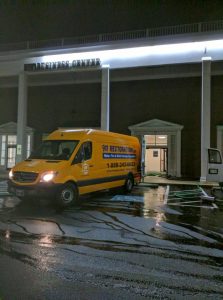 Owning a commercial building can come with its own set of problems that are different from owning residential real estate. For one thing, most commercial property owners do not live in their building, making it more difficult to stay on top of issues as soon as they arise.
If you own an apartment complex you can rely on your tenants to notify you of roof leaks and other instances of water damage, but if you have a small business that is open during normal business hours, then an entire evening can go by before discovering that a pipe burst or other flooding issue has occurred.
It is important to address water damage issues as soon as they happen in order to prevent structural damage and mold growth. However, floods and leaks in commercial spaces may have the ability to go for longer than they should, creating extensive damage.
In order to assist you as soon as possible, 911 Restoration Wichita stays available 24/7/365 to take your calls and schedule an appointment to get technicians to your building. In cases involving water, we guarantee to arrive at the property within 45 minutes of receiving your call, that way we can begin commercial property damage services right away.
Pipe Bursts In Your Building Can Lead To Multiple Issues
One of the most serious issues that your commercial property can experience is a pipe burst. This can happen due to freezing weather, old piping or fractured pipes that eventually turn into a break.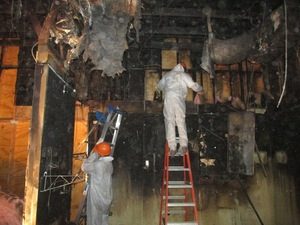 If this happens to occur when you are not on the premises then it is possible for your building to become flooded with hundreds of gallons of water. If you have sump pumps set up in areas of your building susceptible to flooding, then they can alert you when the water level gets too high, signaling you to call for help.
It is best to have professionals extract the water that has flooded your property from a broken pipe, because this water is considered to be category 3 water. This mean is may be filled with toxins, bacteria and sewage that can be harmful to your health upon contact.
If you own a restaurant or retail space and you happen to experience a pipe burst or infiltration of sewage water, then you legally will have to shut down the building until it has been completely decontaminated.
911 Restoration Wichita realizes that your commercial property is your livelihood and we want to get your business back up and running as soon as possible, so give us a call immediately.
Understanding Building Specific Molds
Along with water damage, mold is another issue that is common in commercial real estate.
There are different types of molds that are attracted to commercial buildings and it is important for property owners to be aware of how they can be affected by those mold species.
The mold itself can also affect the health of those people who work inside the warehouses, restaurants, retail spaces and apartment buildings. Most of the time commercial properties have building managers, custodians, maintenance workers and tenants who may be breathing in mold spores day in and day out.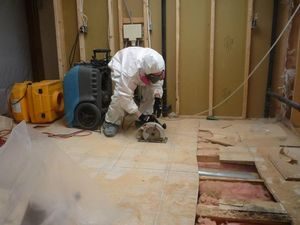 By inhaling mold particles on a regular basis individuals may begin to exhibit symptoms that can seem like allergies, such as coughing, sneezing, headaches and skin rashes. Mold exposure can also cause respiratory infections and asthma.
By controlling the moisture levels inside of the property it will greatly reduce the chances of coming down with a mold infestation, but this is not always easy to do. All a mold spore needs is a minimal amount of water to begin to grow, at which point it will consume whatever organic material it lands on and creating damage.
If you start noticing signs that mold may be infesting your building, call our commercial property damage Wichita technicians and we will remove all instances of mold and water damage to get you on the path to a fresh start.