Water Damage in Wichita
Weather Alert: If you are experiencing weather-related damage from the storm, call us today for emergency assistance!
911 Restoration of Wichita
When you find yourself dealing with water damage and mold in your commercial or residential property it is important to stay calm and keep your wits about you.
This can be difficult when a pipe burst is actively spraying gallons of water into your home or your restaurant is suddenly overcome by a sewage backup, but by staying focused and making the right call you can start moving things in the right direction.
At 911 Restoration of Wichita, we offer a Fresh Start with our comprehensive selection of property damage restoration services, including but not limited to:
24/7/365 Availability
45-Minute Response Time
Same Day Services
Free Property Inspections
Free Estimates
IICRC Certification
Licensed, Bonded And Insured Services
Whether you're a Wichita homeowner or business owner, 911 Restoration of Wichita is your Fresh Start! We'll communicate with you throughout the entire process, help answer questions related to insurance, and restore your property to its pre-damaged condition. One of our IICRC-certified teams is dispatched within 45 minutes of your call! Contact us today, and one of our friendly representatives will assist you in finding the nearest Wichita location.
It is important for us to do everything we can to make you not only feel comfortable, but safe as well. Water damage and mold can be dangerous when not cared for properly, not to mention instances when disasters cause other types of destruction upon your property.
Service area map
Our water damage restoration Wichita professionals are trained to remediate any water, mold, fire and sewage issue you may find yourself dealing with in your home or business. So, call us when you need help the most and we will be there to provide you with any restoration services you need.
Sherry M.
"I would give them 6 stars if I could. I had to deal with a flood in my business, an absolute nightmare for every business owner. [911 Restoration] came right away, and they are so professional and efficient. Even after everything was done they followed up and made sure everything was back to normal. A+ customer service. Thank you!"
Water Damage Restoration
From tornadoes to snow storms and everything in between, property owners in Wichita are well acquainted with the various ways that water can damage their home or business.
The main thing you want to remember when dealing with water damage is that it needs to be remediated quickly. The longer moisture sits, the more damage it does, so getting it up and off the surfaces of your property is key.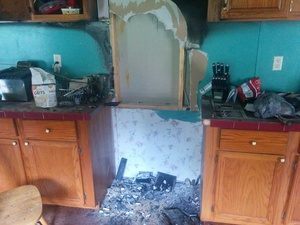 911 Restoration Wichita are known for going the extra mile to provide you with exceptionally fast services. However, just because we work quick, that doesn't mean we are not thorough.
We provide detailed inspections to make sure we repair every trace of water damage. This is to prevent instances of structural damage and mold growth, which is a common byproduct of unmitigated water damage.
Call us when you need same day water damage restoration services and we will prove our dedication to you by getting your property clean, dry and free of any traces of mold today.
Mold Removal
As mentioned above, mold usually sprouts from water damage that has been left to sit for too long. This doesn't mean that weeks have to go by in order to experience an infestation, mold can begin to sprout within 24 hours of being exposed to moisture.
Unfortunately, mold likes to grow in places that are not always visible, such as in crawl spaces, underneath sinks, behind wallpaper and in your attic. However, we are aware of all the places inside your property that may be harboring mold, so you can trust that we will find the fungi, no matter where it is hiding.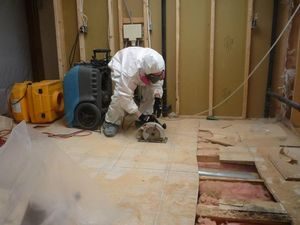 You may be wondering how you might know to call us to remove mold growing in your property if you can't always see it. The answer is that you can actually feel the effects of mold before seeing an infestation.
Prolonged exposure to mold inhalation can cause you to experience allergy-like symptoms that vary depending on the type of mold and how great the infestation may be. If you notice that you only come down with these issues when you are in your property, then that is a sign it may be lurking somewhere out of sight.
So, call us if you have any idea that mold may be infesting your home or business and we will provide you with a free visual mold inspection, so you don't have to worry about taking on any financial risk.
Sewage Backup Cleanup
Water damage can come in many forms, with some water invasions being way more hazardous than others. For example, an overflowing kitchen sink that damages your hardwood floors is considered a category 1 water, while a toilet overflow is known as a category 3 water.
Also known as black water, or sewage, category 3 water damage situations need to be handled with great care. This type of water can be incredibly hazardous if it gets on your skin or in your mouth, which is why it is important to turn to professionals to remediate any problem involving sewage.
As with any water damage issue, sewage backups need to be cleaned up immediately. In order to do so, 911 Restoration Wichita is open around the clock to spring into action the moment you call us to begin remediation services.
When your property needs to be decontaminated after a sewage backup, give us a call and we will arrive at your doorstep with all the gear needed to begin the cleanup effort that very day.
Fire Damage Restoration
Smoke and fire are two of the most destructive forces that can affect your property. Once a fire rages throughout your home or business, it can leave it filled with ash, tar, and destroyed possessions, along with water damage caused by the fire hoses.
This is a big job that requires an experienced company that knows how to remediate every aspect of the aftermath of a fire, from smoke stains to the flooding. 911 Restoration Wichita is experienced with this type of work and we won't waste any time getting started on the repair work.
We will provide comprehensive services that include fire damage cleanup, water extraction, deodorization and assistance removing the contents of your home. That last part can prove to be a difficult task, especially if you need large pieces of furniture removed or disposed of.
Let us guide you through this chaotic time by taking over literally every aspect of the job and before you know it we will have your home or business back up and running again.
Disaster Restoration
There are many different natural disasters that can cause significant property damage to your home or business, and all you need to bounce back is the expert services of 911 Restoration Wichita.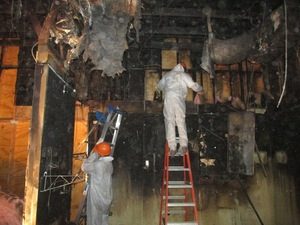 Tornado season marks the time of year where multiple storm systems rage through Wichita over and over again, creating severe weather that have the ability to cause property damage.
Hail, rain and powerful winds can rip through your home or business, making it necessary to reach out for professional help. We will respond to your call no matter what time you call, even if a storm is still raging outside when you need us to come over.
Ice storms are also frequent in the winter time, and they cause more than just the typical water damage issues. This heavy, icy rain can cave in roofs, cause power outages and knock over trees and power lines.
We want to make sure you are safe no matter what disaster may be affecting your property, so call our disaster restoration technicians and you can depend on us to brave any storm for you and your family.